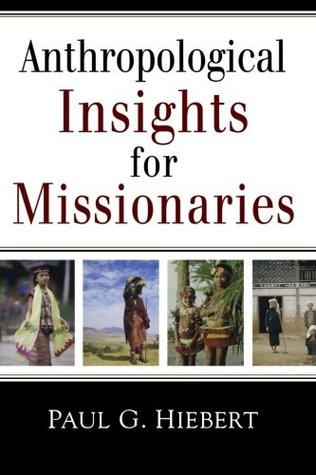 Expert anthropologist shows missionaries how to better understand the people they serve and their historical and cultural settings....
| | | |
| --- | --- | --- |
| Title | : | Anthropological Insights for Missionaries |
| Author | : | |
| Rating | : | |
| ISBN | : | 9780801042911 |
| Format Type | : | Paperback |
| Number of Pages | : | 316 Pages |
| Status | : | Available For Download |
| Last checked | : | 21 Minutes ago! |
---
Anthropological Insights for Missionaries Reviews
This book has allowed me to laugh at myself. I am a person that grew up in small town USA until I was 20 years of age. Through college and other experiences I have moved 8 times in ten years. In each of these situations I have met and experienced new things that this book talks about in grave detail. Most of the time I did not know this was what I was experiencing. It would have been helpful if I could have had this book before to better understand. In moving forward this has taught me a great deal about church work and how to interact with people in better ways. Thankful for the work here. A very important work!

i'd say a must read for anyone who's interested in missions. much of book deals w/ intercultural issues that every missionaries must face. i also found the last chapter very helpful as it discussed the new problems and opportunities of modern missions as we move beyond colonialism into modern world. on the other hand, i was also hoping to read something on the whole nature of globalization w/ so many cultures integrated in cities throughout the world. but, then, being written mid 80's, it's understandable...

This was an interesting book for me to read in my current context. I am a Youth Pastor for a body in Chicago made up of people from Cambodia, Burundi, Tanzania, Congo, a few other countries from the continent of Africa, Nepal/Bhutan, a few Latin American countries and westerners.I have been highly influenced by Richard Twiss in this new context, and I have heard him refer to Hiebert's four selves, or legs to a stool, in a few of his talks. I originally read this book in undergrad and wanted to read it again, for this context I am in.Hiebert's target audience in this book is primarily a westerner going and living in another land/culture to work as a missionary. However he has great things in here for people like myself who are working with a body that is trying to be a multi-cultural body.The most important, to me, is his chapter on the fourth self. Hiebert argues that we talk a lot about things with new churches but we don't talk as much about churches self-theologizing.Hiebert acknowledges that not only does culture have a role in how we determine theology, that isn't necessarily a bad thing. That it is important for cultures to self theologize, thereby not just taking on Western theology/thought. Rather followers of Jesus should intentionally look at God and scripture through the lens of their culture and incarnately apply the Gospel time and time again.This is super important because we as westerners often don't realize how much our culture has influenced how we read scripture and also how we view/think about God. This isn't always a bad thing thing, but it is a bad thing not to realize how much our culture has shaped how we think about God. Too often we label other incarnate theologies as other because they don't completely line up with our theology, so we name them liberation theology or black theology while white western theology is just....theology.A good book for those looking to go overseas, or plug into their local neighborhoods that may look a little different than their own.

Ik heb het boek met name gelezen vanwege het hoofdstuk over contextualisatie. De eerste twee delen gaan met name over het evangelie in relatie tot cultuur. Dit deel vind ik het beste van het boek. De twee laatste delen behandelen met name missionair werk in een andere cultuur. Er is veel herkenning en het is een goede inleiding tot de praktijk van missionair werk voor een beginnende missionaire werker. Sommige gegevens en zendingsfilosofie zijn wel een beetje gedateerd, het boek stamt dan ook uit de jaren 80 van de vorige eeuw. In de tussentijd is er mondiaal veel veranderd.

Amazing insights, and great tips for a cross-cultural relationship.

A great book that I will return to always for Anthropological ideas and perspectives An absolutely amazing book

very helpful with my practical work..

Expert anthropologist shows missionaries how to better understand the people they serve and their historical and cultural settings.

OK information, but all dated. The world changes too fast for this book, compiled from years of teaching about missions.